MVC Kiswahili Hackathon Series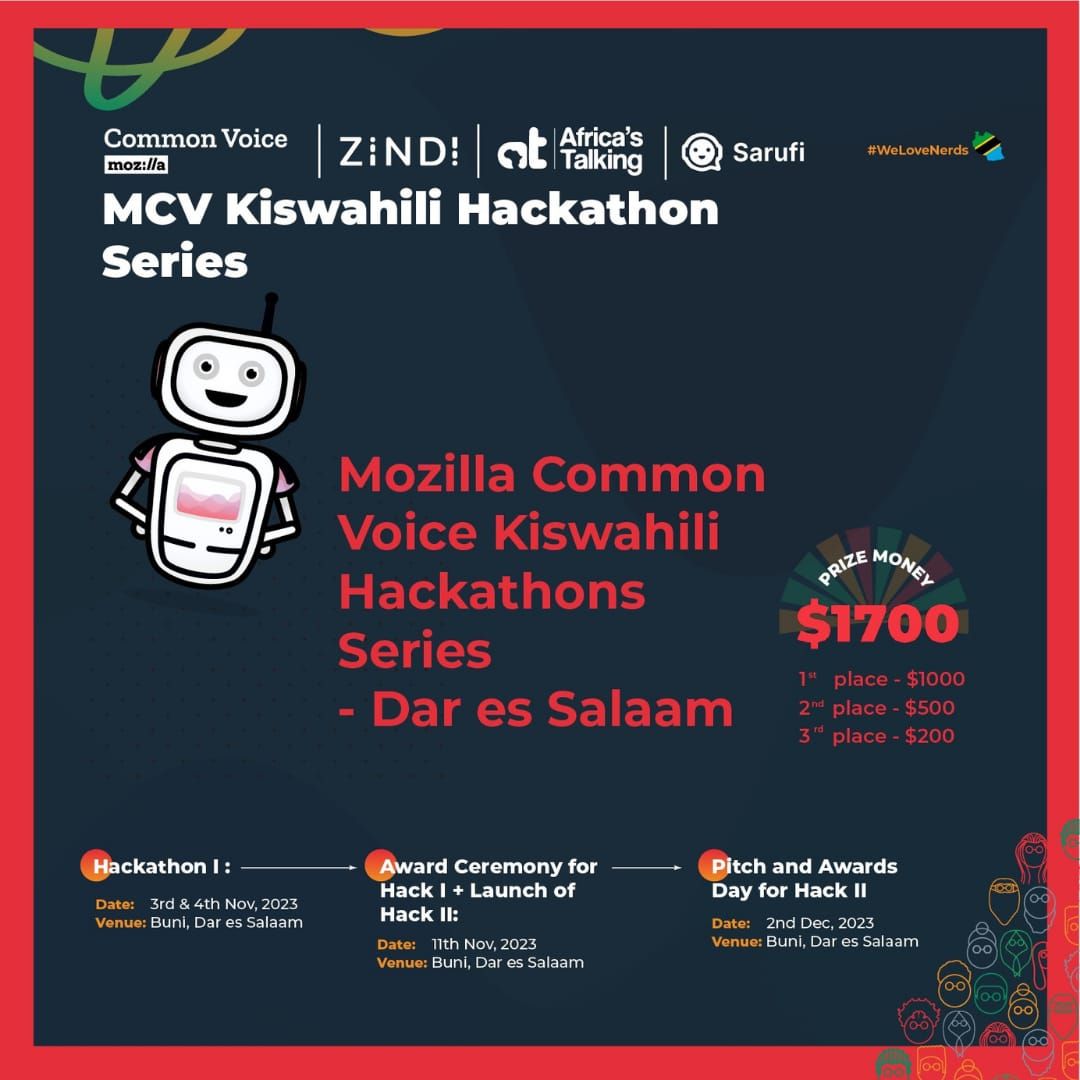 Have you heard?! Mozilla, in partnership with Sarufi AI and Africas Talking, are hosting a four part hackathon series focusing on the potentials of voice technologies.
The series intend to equip contestants with vital skills for utilizing Mozilla Common Voice's (MVC) Kiswahili dataset effectively. So perhaps you might be wondering what is Mozilla Common Voice and why is it a big deal.
Common Voice is a crowdsourcing project started by Mozilla to create a database for speech recognition software. The project is supported by volunteers who record sample sentences with a microphone and review recordings of ther users. Actually you can be one of them right now by visiting their website here: https://commonvoice.mozilla.org/
So you might ask, voice technologies such as Alexa, Apple's Siri and Google Home do exist, so what does Common Voice have that makes it special? Short Answer: Locality.
Neither Google nor Siri support native African languages, just try ask Siri for the weather and see what it responds 👀.
Mozilla's common voice initiative addresses this problem by creating open source voice data sets in underserved languages. You can see the list of languages here: https://commonvoice.mozilla.org/en/languages
Now Mozilla, in partnership with Sarufi and Africas Talking, are launching a four part hackathon series that starts on 3rd November and ends in 2nd December. The goal of the hackathon is find new and creative ways of harnessing voice technologies to better society. So do you think you have what it takes? Well even if you don't think you do YOU SHOULD definitely take part of it.
Benefits of participation include:
Access to cutting edge tools, leveraging Sarufi's APIs, Africas Talking APIs and Mozilla's Common Voice tools
Apprenticeship and support from Sarufi, Africas Talking and Mozilla experts who will guide and support you throughout the hackathon as they build with you
Networking opportunities as you will get to connect with like minded individuals and industry professionals
Get to make a real tangible impact in your society
And Cash prizes of up to $1000
It's truly one of the unique opportunities presented to us and not one to miss, especially if you are in Tanzania since the event will be hosted in Dar Es Salaam, how great is that?
You can RSVP and view the full details about the event here: https://community.elarian.com/events/details/africas-talking-africas-talking-community-presents-africas-talking-x-mozilla-mcv-kiswahili-hackathon-series-dar-es-salaam-tanzania/
And you can learn more about the Mozilla's Common Voice program here: https://commonvoice.mozilla.org/en
Use this opportunity to enhance your skills and to connect with industry professionals.
Happy Hacking!